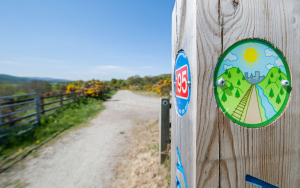 After a long spell off the big hills it is quite easy to lose your hill fitness. Or you might have never been up a hill before, feeling they are beyond your reach or too much effort! Let us give you an insight, it's just walking! It might take you a wee bit longer to get where you are going, you might get sore feet and tired legs, but the efforts are well rewarded. Pick your weather, take your time, and enjoy a full day of absolute pleasure!
The benefits of walking in nature are well known. In Deeside we are so lucky to have many wonderful places to explore, magnificent mountains, stunning rivers, lochs, and glens. All abundant with wildlife and history too.
If you are new to walking in remote places you might want to consider a guided walk. This can really take the stress out of planning and decision making and you will also learn so much about the environment you walk through.
You should also be familiar with responsible access measures to help conserve these beautiful places. This website contains lots of useful information on responsible access – https://www.outdooraccess-scotland.scot 
Hillgoers are based in Deeside and we offer guided walks, trail runs, navigation tuition and winter events all over Scotland. Our favourite hill is Lochnagar, with its impressive corrie, waterfall, and arctic like plateau, it never fails to impress. Another favourite that can be easily walked from Ballater is Craigendarroch. Fill a flask, take a Balmoral roll sandwich and you'll have a perfect place for a picnic overlooking the village.
If you need any advice, we are happy to help!